Supplements test
Which supplements do I need?
Do you want to know which supplements you need? Then take the Virtuoos supplements test and discover how you can get the most out of your performance! #TheXtra%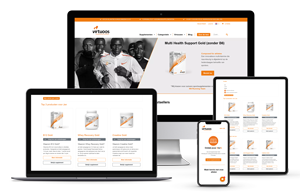 Personal supplements advice
With so many different supplements available, it's very difficult to know which supplements are beneficial for you. After all, not everyone needs the same supplements and the ideal supplement for one person may be completely unnecessary for another. In order to give you the best possible advice, Virtuoos has developed a new revolutionary online supplement test!
Because the supplements test takes many different factors into account, you will receive personalized advice that perfectly matches your goals and needs. This allows you to test which vitamins and supplements are most beneficial for you.
From amateurs to professional athletes
The Virtuoos supplements test is a useful tool for every type of athlete. The test takes into account your sporting goals and the effort you put into your sport, whether you cycle once a week or go to the gym every day. There is also a special test for professional athletes, which takes into account the intensive strain that the body of a top athlete has to endure on a daily basis.