BCAA Instant Gold contains the essential amino acids leucine, isoleucine, and valine in an optimum ratio of 2:1:1. A third of our muscles consists of these three amino acids. Your body is unable to make these amino acids itself, which means that you need to obtain them from your diet. BCAA Instant Gold is ideal for use during periods of training.
Contains 300 grams
| | |
| --- | --- |
| | 5 grams of BCAAs per dose |
| | Optimum ratio of 2:1:1 |
| | Supports muscle formation and repair |
| | Suitable for vegetarians and vegans |
| | Delicious and fresh lime flavour |
BCAA Instant Gold from Virtuoos is a balanced combination of the branched-chain amino acids (BCAAs) L-Leucine, L-Isoleucine, and L-Valine. These essential amino acids cannot be produced by your own body and must therefore be obtained from food. In the body, BCAAs are mainly found in the muscles.
No less than 35% of muscle protein is made up of BCAAs. This product contains these three amino acids in the ratio 2:1:1. This ratio is considered to be ideal, as it corresponds to the ratio of BCAAs in muscle tissue.
BCAA Instant Gold has a delicious, fresh lime flavour. The powder dissolves even better now in water or fruit juice.
NZVT Certified
BCAA Instant Gold is produced in accordance with the anti-doping standards and other standards of the NZVT system (Anti-Doping Authority for the Netherlands) and therefore displays the NZVT logo. BCAA Instant Gold can be used by top athletes with confidence.
Additional information
This product does not contain any known allergens and is also suitable for vegetarians and vegans.
Daily use
Unless advised otherwise, dissolve one level measuring scoop in water or fruit juice and drink once a day before, during, or after intensive exercise. One scoop contains approximately 5 grams.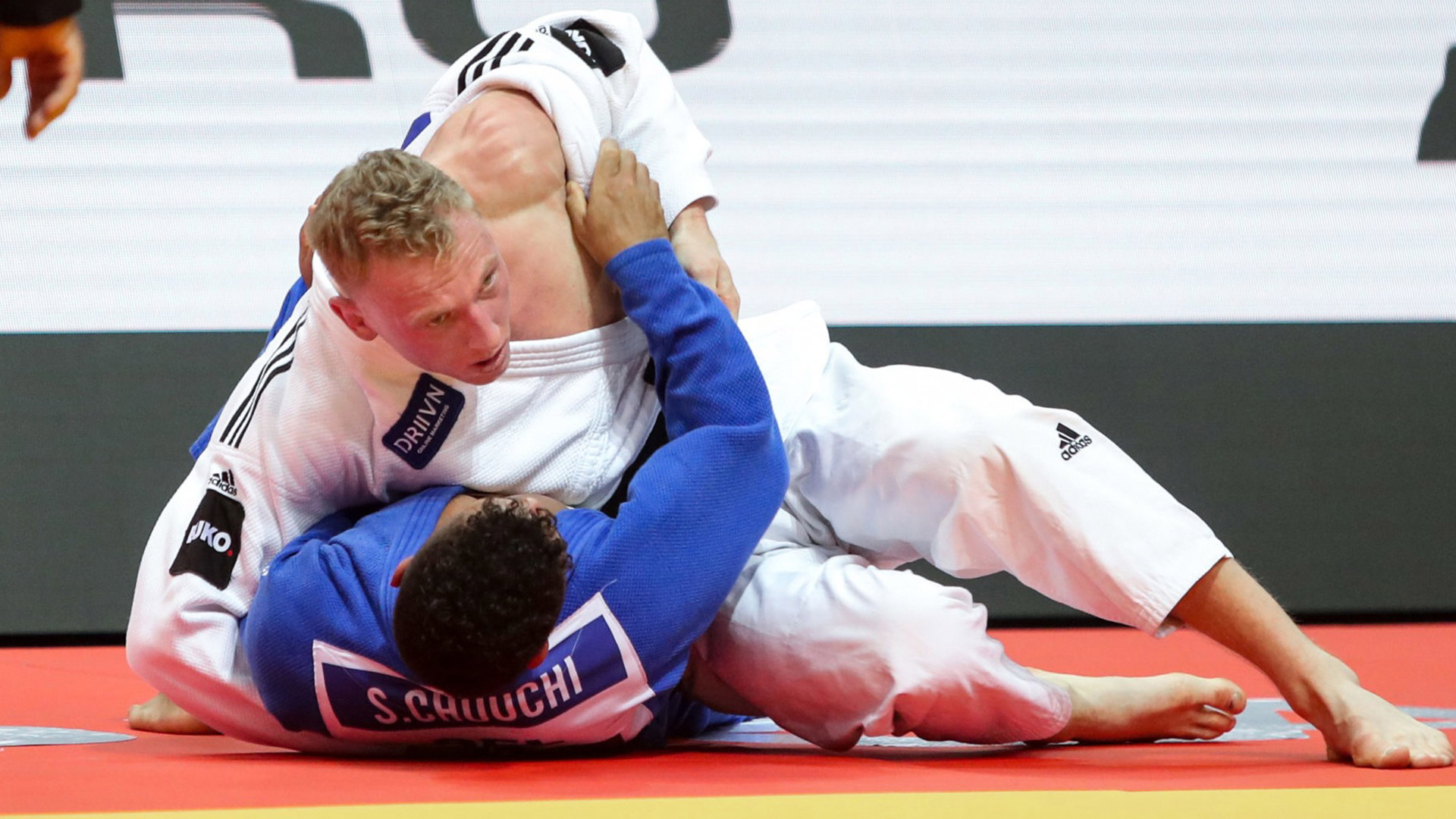 Since December 2012 we are only allowed to publish product data sheets and product information that contain approved health claims by a European scientific organization – as a result of the European regulations on nutrient claims. This limits Virtuoos' ability to provide information, as many health effects of diets and dietary supplements are (still) not recognized by this organization as sufficiently scientifically substantiated.
Amino acids are the building blocks of proteins. There are twenty different amino acids in existence, nine of which are essential. These amino acids cannot be produced by the body and must therefore be consumed through food. BCAAs (Branched-Chain Amino Acids) are a group of the three essential amino acids leucine, isoleucine, and valine. These amino acids are involved in muscle protein metabolism, with leucine, in particular, playing an important role in muscle protein synthesis. During strenuous exercise, BCAAs can be used as a source of fuel. BCAAs can be found in large quantities in food products of animal origin, such as meat, fish, eggs, poultry, dairy, and whey proteins.
Main effect of BCAAs:
Stimulates the production of muscle protein
Additional information:
BCAAs make up approximately 35% of a muscle
BCAAs are commonly found in animal-derived food products, such as meat, poultry, dairy products, and whey protein. These foods contain around 15–20 grams of BCAAs per 100 grams of protein
Vegetable proteins contain relatively fewer BCAAs
A daily diet that includes 100 to 150 grams of protein yields 15–30 grams of BCAAs
When is it useful:
For all athletes who train intensively. It stimulates muscle building and can limit muscle damage
During tournaments or multi-day competitions (reduces muscle aches and muscle damage)
During low intake of animal proteins or when following a vegetarian or vegan diet
Dosage
There are several possible doses. A commonly used dose is 3–5 grams
This can be taken 30 minutes before exercise and within half an hour afterwards
One measuring scoop provides 5 grams of BCAAs of which 2.5 grams are leucine
More than 30 grams of BCAAs a day may have a detrimental effect due to an increase in ammonia
Composition per daily dose (level measuring scoop)
Ingredient
Quantity
%RI
Proteins
4600 mg
*
– L-Leucine
2300 mg
*
– L-IsoLeucine
1150 mg
*
– L-Valine
1150 mg
*
RI = Reference intake / * RI not determined
Claims
Health claim(s)
5 grams of BCAAs per dose
Optimum ratio of 2:1:1
Supports muscle building and repair
Suitable for vegetarians and vegans
Delicious and fresh lime flavour
Dietary Supplement
Yes
Category
Amino acids
Productinformation

Guideline Daily Amount(GDA)
Unless advised otherwise by a nutritionist, dissolve one level measuring scoop in water or fruit juice and drink once a day before, during, or after intensive exercise. One measuring scoop contains approximately 5 grams.
Storage
Keep in a dry, cool place away from direct sunlight and out of reach of small children.
Warnings
A healthy lifestyle is important, as is a varied diet. A nutritional supplement is not a substitute for a varied diet.
Ingredients
BCAA (L-Leucine, L-valine, L-isoleucine) 2:1:1, acidulant (citric acid), flavouring agent (lemon), sweetener (sucralose), colouring agent (riboflavin)
Allergy information
This product does not contain any known allergens and is suitable for vegetarians and vegans.
Contains

Content: 300 grams

EAN
8718444867685