Sodium Bicarbonate 1200mg Gold
Sodium Bicarbonate Gold contains 1200 mg of sodium bicarbonate per vegetarian capsule. The body itself produces bicarbonate, but these stores can become depleted. A supplement can be used in addition. Ideal for athletes involved in high-intensity sports, such as sprinters, rowers, and swimmers.
Contains 90 vegetarian capsules
| | |
| --- | --- |
| | 1200 mg sodium bicarbonate per vegetarian capsule |
| | For short bouts of high-intensity exercise |
| | For avid athletes |
| | 90 vegetarian capsules per pack |
| | Suitable for vegetarians and vegans |
Sodium bicarbonate, also known as baking soda or purification salt, has a wide range of functions. It is a commonly used rising agent in baking and is also an indispensable product used in cleaning. The body itself can also produce bicarbonate. However, these stores are not endless.
Nowadays, there is increasing interest from the sports world to supplement with sodium bicarbonate. We have therefore developed Sodium Bicarbonate 1200 mg Gold especially to meet this demand. This product contains no less than 1200 mg of pure sodium bicarbonate per vegetarian capsule.
When is it beneficial?
Sodium Bicarbonate 1200 mg Gold is ideal for sports in which frequent short bursts of high-intensity activity are required. Examples of these sports are swimming (100–400 m), running (400–1500 m), cycling (track and short distances), and rowing. Sodium bicarbonate can also be useful for athletes engaged in sports with intervals, such as team sports and martial arts.
NZVT Certified
Every batch of Sodium Bicarbonate 1200 mg Gold is produced in accordance with the NZVT system's (Anti-Doping Authority for the Netherlands) anti-doping and other standards and therefore displays the NZVT logo. This means that high performance athletes can use Sodium Bicarbonate 1200 mg Gold with confidence. Pure supplements are also important for those who aren't high performance athletes. Contamination with harmful or prohibited substances and incorrect labelling are common problems in the supplement world. Our high-end production process, focus on quality and the independent NZVT seal of approval mean you can rest assured that you're consuming a pure product.
Additional information
This product does not contain any known allergens and is suitable for vegetarians and vegans.
Recommended use
Take around 300 mg of sodium bicarbonate per kilogram of body weight 120–150 minutes before starting exercise. A person who weighs 65 kg will therefore need 16 capsules (300 mg * 60 kg/1200 mg).
Take the capsules with plenty of water or with an isotonic sports drink. To increase absorption and reduce the risk of intestinal problems, the capsules can be taken with a carbohydrate-rich meal (1–1.5 grams of carbohydrates per kilogram of body weight).
Sodium Bicarbonate 1200 mg Gold can be effectively combined with Caffeine Gold 50 mg, Creatine Gold, and Beta Alanine 750 mg Gold.
Intestinal problems
The use of sodium bicarbonate may cause intestinal problems. Always try Sodium Bicarbonate 1200 mg Gold during a training session first before using it during a competition. If a single dose causes intestinal problems, the dosage can be split. The total intake is then divided into several doses during a period of 90–180 minutes, with the last dose taken 120 minutes before starting the activity.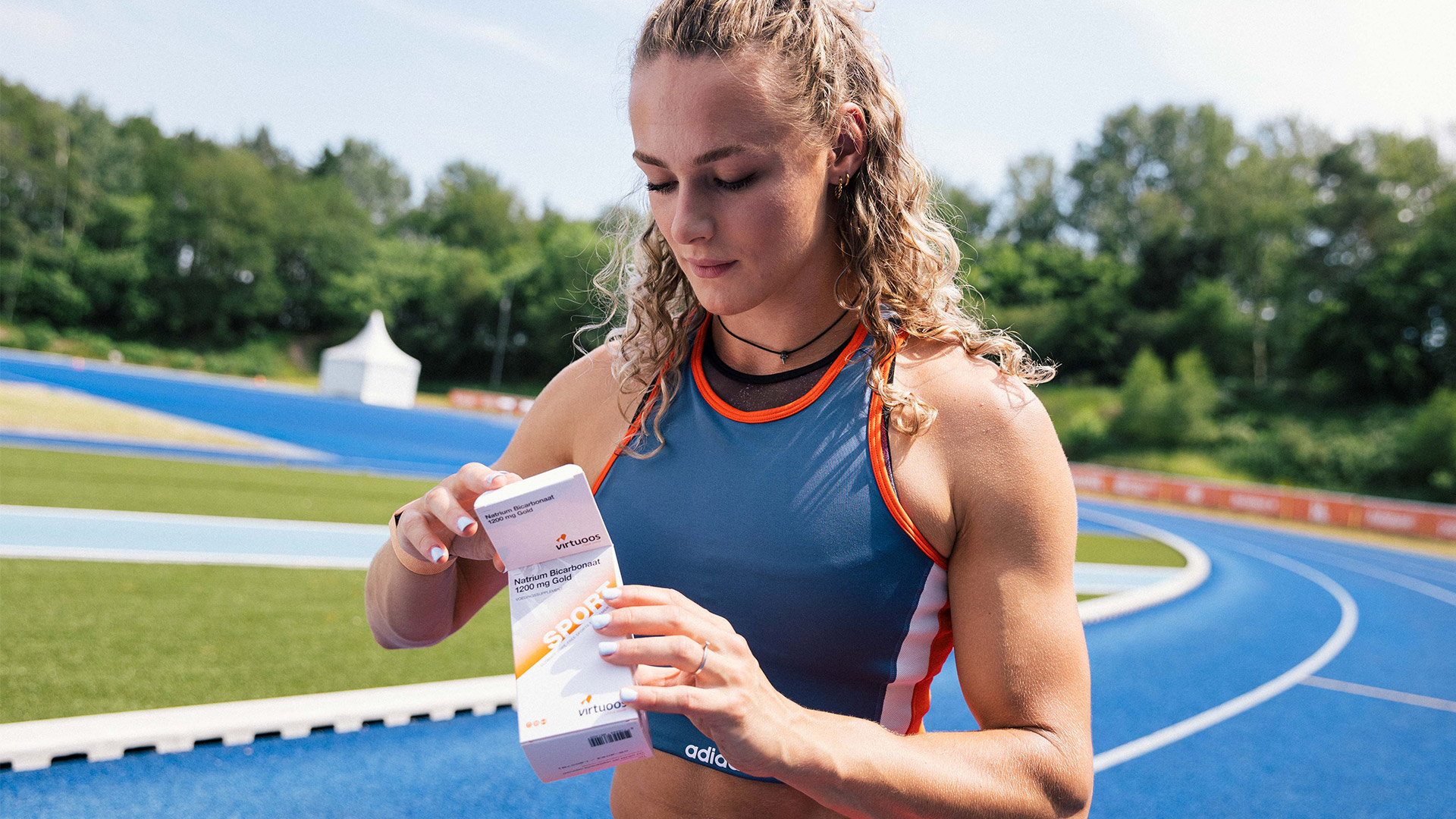 Composition per vegetarian capsule
Ingredient
Quantity
%RI
Sodium bicarbonate
1200 mg
*
RI = Reference intake / * RI not determined
Claims
Health claim(s)
Specifically suitable for athletes
Packed in a hygienic blister pack
This product was developed together with the Dutch top sport
Dietary Supplement
Yes
Category
Other
Productinformation

Recommended use
Use in consultation with your nutritionist.
Storage
Keep in a dry, cool place away from direct sunlight and out of reach of small children.
Warnings
Do not exceed the recommended dosage. A healthy lifestyle is important, as is a varied diet. A nutritional supplement is not a substitute for a varied diet.
Ingredients
Sodium bicarbonate, hypromellose (capsule shell), potato starch (filler), sunflower oil (flow improver)
Additional information
This product does not contain any known allergens and is suitable for vegetarians and vegans
In same field of vision

Content: 90 vegetarian capsules
Nett weight: 122 gram
EAN
8718444861409