Casein Gold contains high-quality, slow-digesting casein proteins. Casein proteins are ideal for use when you will not be consuming proteins for a prolonged period, such as when going to sleep. Casein proteins support muscle recovery and contribute to muscle growth.
Contains 900 grams
Flavours Vanilla / Strawberry
| | |
| --- | --- |
| | High-quality casein proteins |
| | 26 grams of slow-digesting proteins per dose |
| | Ideal before going to sleep |
| | Promotes muscle recovery |
| | Stimulates muscle growth and muscle strength |
What is casein?
Casein Gold is a protein supplement originating from milk. The high-quality casein protein contains a complete amino acid profile and supplies no fewer than 6 g of BCAAs per dose. In contrast to whey protein, casein protein is digested and absorbed slowly. This makes casein protein ideal for prolonged periods in which you do not consume protein.
Casein shake before sleeping
Many athletes take casein protein as a final meal before sleeping. This is a perfect time as, during the night, you do not consume any protein for a longer period. As casein protein is slowly released to your muscles, you have a continuous supply of amino acids (the building blocks of proteins) to your muscles. Slow-release casein protein is also ideal at other times:
In the morning to provide protein through the day
Between meals
When you miss a meal
When you don't eat a protein-rich meal within a 3-4 hour period
During a long working day
Casein protein for muscle recovery and growth
To recover properly as an athlete, it is important that you give your body as constant a supply of proteins as possible, as these are the building blocks for your muscles. While you are exercising, tiny tears develop in your muscles. Ensuring that you have a sufficient and continuous supply of protein in your body promotes optimal muscle recovery and build-up. A daily intake of 1.6 to 1.8 g of protein per kg body weight is a good guideline and Casein Gold is ideal for this.
If your goal is muscle growth, protein is even more important. In combination with strength training, protein actually stimulates the growth of your muscles. For optimal muscle growth, the recommended daily dose is 1.8 to 2 g protein per kg of body weight.
Extremely low in lactose
The unique production process of Casein Gold means that the protein powder contains almost no lactose. Most casein protein supplements contain 4-6% lactose, while Casein Gold contains less than 0.2% lactose. This means Casein Gold can even be used by people with a lactose intolerance. We recommend testing this yourself, as some people are more sensitive than others.
NZVT Certified
Every batch of Casein Gold is produced in accordance with the NZVT system's (Anti-Doping Authority for the Netherlands) anti-doping and other standards and therefore displays the NZVT logo. This means that high performance athletes can use Casein Gold with confidence. Pure supplements are also important for those who aren't high performance athletes. Contamination with harmful or prohibited substances and incorrect labelling are common problems in the supplement world. Our high-end production process, focus on quality and the independent NZVT seal of approval mean you can rest assured that you're consuming a pure product.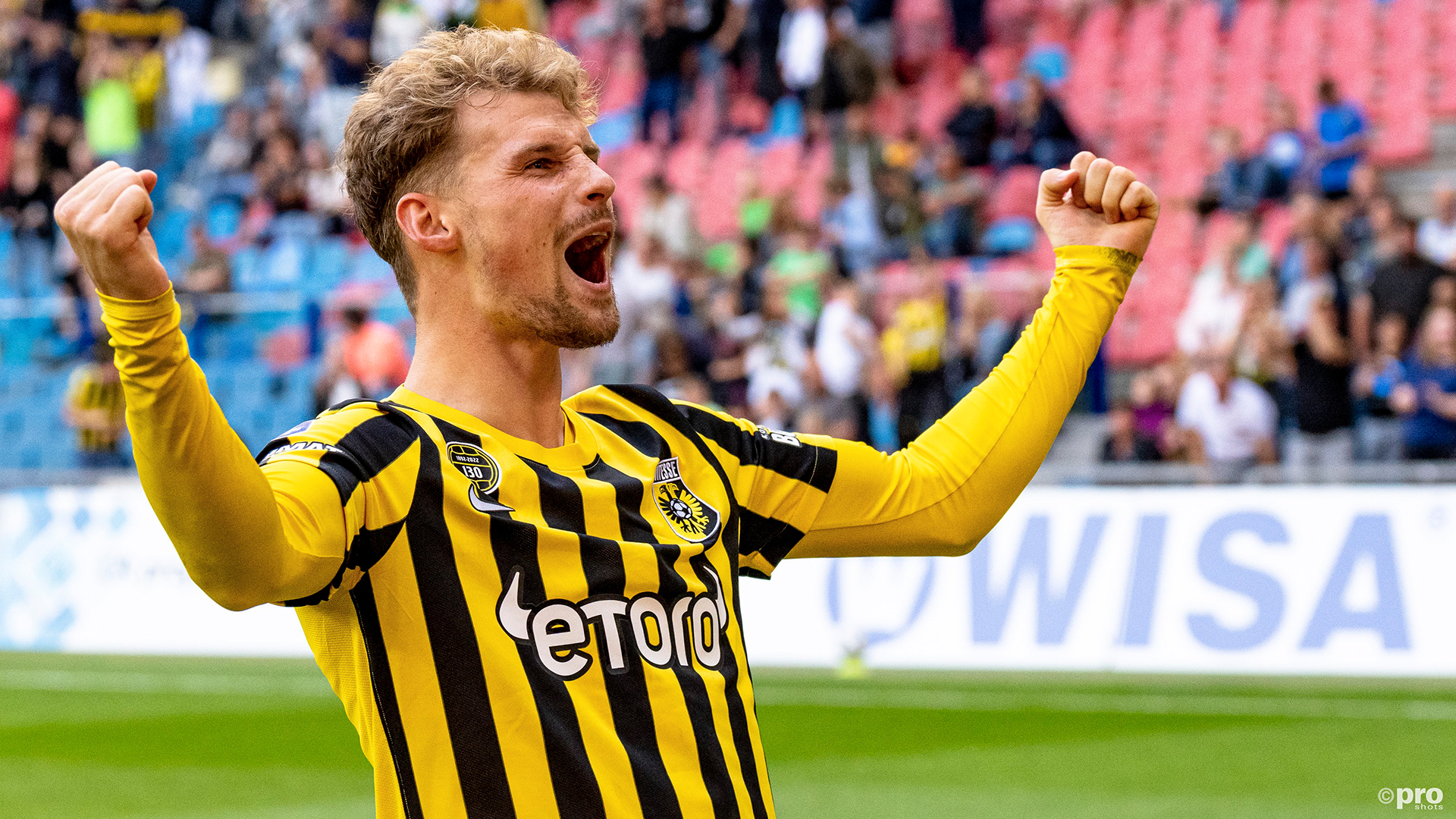 Composition per shake (two measuring scoops)
Ingredient
Quantity
%RI
Calcium Caseinate protein concentrate
30 g
*
RI = Reference intake / * RI not determined
Claims
Health claim(s)
Active form of vitamin B12
Helps to reduce tiredness and fatigue
Supports the production of red blood cells
500 mcg per vegetarian capsule
Suitable for vegetarians and vegans
Dietary Supplement
Yes
Category
Vitamins
Productinformation

Recommended use
Dissolve two level measuring scoops in 250 ml of water, milk, or yoghurt. Measuring scoop supplied.
Storage
Keep in a dry, cool place away from direct sunlight and out of reach of small children. Contains a silica-gel sachet as a guarantee of quality. This sachet or its contents are not suitable for consumption.
Warnings
A healthy lifestyle is important, as is a varied diet. A nutritional supplement is not a substitute for a varied diet.
Ingredients

Vanilla: Calcium Caseinate protein concentrate processed from fresh milk (contains sunflower lecithin), Flavouring agent (vanilla flavouring), Colouring agent (turmeric extract), Sweetener (sucralose), Silicon

Strawberry: Calcium Caseinate protein concentrate processed from fresh milk (contains sunflower lecithin), Flavouring agent (strawberry flavouring), Sweetener (sucralose), Colouring agent (carmine powder), Silicon

Additional information
This product is suitable for vegetarians.
In same field of vision
Content: 900 grams
EAN
Vanilla: 8718444861300
Strawberry: 8718444861317
| | | | | |
| --- | --- | --- | --- | --- |
| Composition | Per 100 grams | %RI | Per 30 grams | %RI |
| Energy value |   |   |   |   |
| – Kilojoules (kJ) | – 1506 kJ |   | – 452 kJ |   |
| – Kilocalories(kcal) | – 360 kcal |   | – 108 kcal |   |
|   |   |   |   |   |
| Fats | 1.0 g |   | 0.3 g |   |
| – of which saturated | 0.7 g |   | 0.2 g |   |
| Carbohydrates | 0.2 g |   | 0.1 g |   |
| – of which sugars | 0.2 g |   | 0.1 g |   |
| Proteins | 88.5 g |   | 26.6 g |   |
| Salt | 0.1 g |   | 0.03 g |   |
| Calcium | 1460 mg | 183% | 438 mg | 55% |
| Phosphorus | 720 mg | 103% | 216 mg | 31% |
RI = Reference intake
Reference intake of an average adult is 8400 kJ (2000 kcal)
COMPOSITION OF PROTEINS (grams of free amino acids/100 grams of proteins)
Essential branched-chain amino acids
L-Isoleucine
5.8 g
L-Leucine
10.1 g
L-Valine
7.4 g
Essential amino acids
L-Phenylalanine
5.4 g
L-Lysine
8.3 g
L-Methionine
3.0 g
L-Threonine
4.6 g
L-Tryptophan
1.4 g
Semi-essential amino acids
L-Arginine
3.8 g
L-Histidine
3.2 g
Non-Semi-essential amino acids
L-Alanine
3.1 g
L-Asparagine acid
7.3 g
L-Cysteine
0.4 g
L-Glutamine acid
22.3 g
L-Proline
10.5 g
L-Serine
6.3 g
L-Tyrosine
5.8 g
Glycine
1.9 g
RI = Reference intake
Reference intake of an average adult is 8400 kJ (2000 kcal)